The 16th International Conference on Machine Learning and Computing is the premier forum for new ideas and experimental results in machine learning and computing. The conference specifically seeks particularly forward-looking and novel submissions. Papers are solicited on a broad range of topics, including (but not limited to):
Machine Learning

Computing

Unsupervised Learning
Meaningful Compression
Computational Theories of Learning
Big Data Visualization
Structure Discovery
Feature Elicitation
Recommender Systems
Targetted Marketing
Multitasking and Transfer Learning
Customer Segmentation
Deep learning
Supervised Learning
Image Classification
Identity Fraud Detection
Customer Retention
Diagnositics
Population Growth Prediction
Advertising Popularity Prediction
Weather Forecasting
Market Forecasting
Estimating Life Expectancy
Intelligent Search
Data Access
Statistical Learning
Reinforcement Learning
Real-time Decisions
Robot Navigation
Game AI
Skill Acquisition
Learning Tasks
Data Mining
Intelligent Systems
Complex Systems
Neural Networks and applications

Computer Modeling
Parallel Computing
Quantum Computing
High Performance Computing
Distributed and parallel systems
Cognitive Computing
Cloud Computing
Distributed Computing
Grid Computing
Embedded Computing
Scientific Computing
Scalable Computing
Human-centred Computing
Mobile computing
Simulation
Conference Publication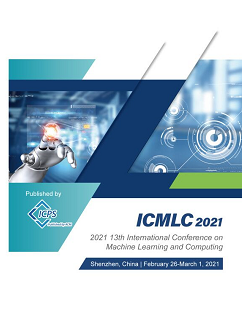 All submitted papers will be sent to 2-3 peer reviewers for reviewing. And accepted and presented papers will be published into ICMLC 2024 International Conference Proceedings Series by ACM (ISBN: 979-8-4007-0923-4), which will be indexed by Ei Compendex and Scopus index, like the previous conferences.

Submission Method
Welcome related scholars, students to submit your full papers or abstracts by Electronic Submission System. or email: icmlc@vip.126.com.